Brisbane Things To Do
What to do in Brisbane?
Brisbane River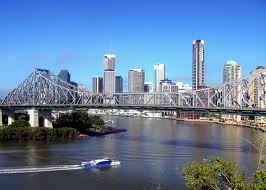 A trip along the river is one of the most relaxed and enjoyable of all of the Brisbane things to do.  All along the banks of the Brisbane River are parks and recreational boardwalks, play and picnic areas, walking and bike trails, restaurants, cafes, markets pontoons and fishing facilities. CityCat ferries are an efficient, fast, inexpensive and a fun way to explore the river and the City of Brisbane.
CityHopper
The CityHopper gives you Brisbane for nothing. Much public money has been spent building it and there you go, given away for nothing. 🙂 Well maybe not all of it and it's very hard to take Brisbane home. 🙂
The CityHopper is a free ferry ride every 30 minutes excluding the early hours of the morning when there's not a lot to see anyhow.
You will get to see all the major river sights, get off and explore and return to the water until the next stop takes your fancy. Not bad for nothing.
City Botanic Gardens
The riverside City Botanic Gardens are Brisbane's original botanic gardens. The gardens stretch out to the Brisbane River on three sides where you can walk or cycle your way around to enjoy the exotic flora.
Mangrove Boardwalk
As Brisbane things to do go, the attractions at the gardens probably won't send you into a state of euphoria. Yet the Bamboo Grove, Weeping Fig Avenue, Mangrove Boardwalk and ornamental ponds are very nice. Special events are also held at the Riverstage.
Riverside Markets
If you visit on a Sunday head towards Eagle Street pier for the Riverside Markets.
City Botanic Gardens
The City Botanic Gardens are only a 10 to 15 minutes walk from Brisbane's city centre. You can walk into the gardens from the Parliament House entrance near George Street. You can also catch a bus or ferry to the gardens.
Fortitude Valley
Fortitude Valley is Brisbane's centre of alternative and emerging fashion, music and entertainment. The heart of Fortitude Valley ( "The Valley") consists of James, Brunswick and Ann Streets. There are dozens of venues to choose from, each with their own style and atmosphere.
Brunswick Street Mall
If you are wondering where to start follow the crowds into Brunswick Street Mall with its rows of boutiques, designer dress shops. cafes, bars and eateries.
Chinatown in Fortitude Valley
Brisbane's Chinatown Mall in Duncan Street, Fortitude Valley, has been a hub of Asian commercial and cultural activity since its official opening on 29th January 1987. Streets are signed in both Chinese and in English.
Roma Street Parkland
Roma Street Parkland is home to a range of unique Australian subtropical vegetation as well as beautiful examples of flora from around the world. The Parkland's individual precincts show a seasonal array of diverse horticultural displays.
As well as eye-catching flora, the Parkland has an array of birds, lizards and fish which have made Roma Street Parkland home.
Castlemaine Perkins Brewery – XXXX Ale House & Brewery Tours
The XXXX Ale House and Brewery Tours allow you to experience an Australian icon up close and discover its proud history. The Castlemaine Perkins Brewery was established at Milton in 1878. A visit to the brewery is your ticket to a rich taste of the science, art and heritage behind XXXX beer.
Queen Street Mall
Brisbane's vibrant Queen Street Mall hosts over 26 million visitors a year. There are 700 plus retailers, numerous restaurants, cafes, bars, cinemas, salons and a grand casino. Regular free live entertainment adds to the experience. Close by you'll find many of Brisbane's galleries, museums and parkland.
More things to do: