Fraser Island in Queensland
What to do and what not to do on Fraser Island
World Heritage listed Fraser Island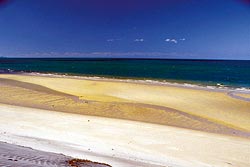 Fraser Island is ideal for lovers of sand castles. At 123 kilometres long, 240 metres high and 184,000 hectares in size Fraser Island is the biggest sand castle of them all. 🙂
Dingoes
World Heritage listed Fraser island is a protected Aussie treasure. Fraser island has become a major tourist destination and camping ground. The downside is the Dingoes have become used to people. This is mainly because we keep feeding them. Please don't feed the doggies, they like the skinny look.
Guided Tours
If you are on a guided tour you should be fine under the guides supervision but if you are camping you must exercise caution, particularly in regard to children. These doggies most definitely bite.
Top 100 freshwater lakes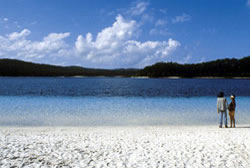 Now I've scared you off, you'll find Fraser island is a place of exceptional beauty, with uninterrupted white sandy beaches flanked by distinctly coloured sand cliffs. Fraser island boasts over 100 freshwater lakes, some are tea-coloured whilst others are clear and blue and exquisite to swim in. Most of Fraser Island's lakes are ringed by white sandy beaches.
Rainforests
Fraser Island's ancient rainforests grow in sand along the banks of fast-flowing, crystal-clear creeks. The magnificent wildflower bloom in spring and summer adding to the islands colour and vibrancy.
Dugongs
The Great Sandy Strait, separating Fraser Island from the mainland, is an important wetlands area. Among the 40,000 migratory shorebirds the wetlands are home to rare and endangered species such as Dugongs.
How Long should you stay?
A single day will not be enough to get the most out of Fraser Island but understand if you have no choice (I just pity you). Two or three days will probably do it unless you love camping and can afford the time.
Tours
The reality is you probably should sell everything you own and stay in Queensland for keeps. Stay for as long as you physically can. It's irresponsible to suggest you stay any longer than that but I know the feeling. Most of the Fraser Island tours run out of Brisbane.
For more information follow this link below:
If you haven't already, visit the list of the top things to do in Queensland, Fraser island is listed in the top 15.