Things to do on Long Island Australia
What to do on Long Island Australia?
Long Island Australia – Whitsundays Queensland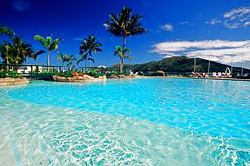 Long Island Australia is a relatively quiet island located close to the mainland. You might be off shore but you are still in the heart of the Whitsundays. It only takes 20 minutes or so to reach Long Island from both Shute Harbour and Hamilton Island.
Why is Long Island called Long Island?
The island gets it unimaginative name by being 9km long and not very wide. In a few places, like Fish Bay and Palm Bay, the distance between the western and eastern shoreline is little more than 300 metres.
The Long to 'get away from it all' Island
Long Island tends to attract travellers looking to 'get away from it all' without having to sacrifice too many of life's modern conveniences.
The Mystery of Long Island Australia
Watch out for evidence of a Spanish galleon which is rumoured to be lying off the coast of Long Island. Sightings of an old timber ship, Aboriginal stories of a shipwrecked crew and a claim that coins have been washed up on a beach have created the beginnings of a myth.
Long Island Gift Shop?
Given a few more years and Long Island may well change its name to something a bit more Spanish. I'm already setting up a gift shop! 🙂
To get to Long Island you can catch a launch from Hamilton Island or Water Taxi from Shute Harbour.
Some of the things you could do on Long Island:
Swimming.
Snorkelling.
Bush walking.
Jet Ski.
Mini Golf.
Scuba Diving.
Trips to the Outer Reef.
Treasure hunting.  🙂
Discover the treasures of a Long Island
Long Island is a superb destination for a day visit as you can enjoy the relaxed atmosphere and great facilities of the resort, head off to explore the islands walking tracks or a mix of both.
Relax on the beach, claim a hammock or take a dip in the pool. Enjoy a cocktail or cold beer at the poolside bar before that superb buffet lunch.
Long Island Resort also boasts a superb spa facility and has a comprehensive range of water sports, parasailing, jet skiing, catamaran sailing, glass bottom water bikes, water skiing and fishing trips.
Experience the magic of nature with 2,500 acres of tropical rainforest from the 20kms of varied length scenic walking tracks in the National Park. Suitable for all ages and fitness levels. Enjoy hill-top views, bush wildlife and palm fringed beaches. Or you can take to the water and explore the coral reef which lies just 150 metres off shore.
More About Long Island Australia