Top 10 Gold Coast Tours
To book on one or more Gold Coast Tours or find out more follow the link at the foot of this page
1 Whale Watching Gold Coast Tours

Don't just Whale Watch, be there! See the magnificent Humpback Whales breach, hear their great tail slap the water. Feel the waves rock the boat and marvel at their playfulness!
Join in an unforgettable cruise past the homes of the rich and famous. Cruise into the clear blue waters of the majestic 'Humpback Highway'. If you do this between June and October you have a 95% chance of seeing a whale.
2 Passes To Gold Coast Theme Parks
Expereince some of most advanced and sophisticated rides in the World. The Gold Coast has taken Theme Parks to a new high, in some cases literally.
3 Jet Boat the Gold Coast
Jet Boat the Gold Coast one of the best Gold Coast Tours
High-speed slides and drifts and exhilarating 360 degree spins! Awesome beach buzzing and nose offs! All sounds exciting to me! Tours Depart on the hour 10am – 4pm!
4 Guided Gold Coast Jetski Tour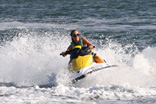 The tour takes you to South Stradbroke island and through narrow mangrove channels to Couran Cove. You return via the impressive multimillion dollar mansions on Sovereign Islands. After your ride you are welcome to relax around the resort swimming pools or enjoy something from the cafe.
5(6) Be Absorbed in your Gold Coast Zorb (globe-riding, sphereing, orbing)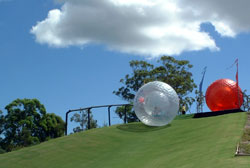 You have to do this as its such a great name for having a ball.
6(7) Escape to Lamington National Park
World Heritage Lamington National Park
Lamington National Park is part of the World Heritage Listed Central Eastern Rainforest Reserves. It is the largest protected area of sub-tropical rainforest in Australia.
You will enjoy Iconic O'Reilly's Guesthouse as it is situated in the centre of the cool, quiet rainforest of the National Park. The Guesthouse has some spectacular panoramic views to the McPherson Ranges.
The drive will take you via Tamborine Mountain through the quaint townships of Canungra and the picturesque Canungra Valley. Soon after you will be climbing through spectacular rainforest along scenic mountain roads.
7(8) Twilight Rainforest Gold Coast Hinterland Safari
Just awesome!
Looking for something different join in on a Twilight Safari! Springbrook Plateau is your destination full of rainforest, waterfalls and 3,000 year old Antarctic Beech Trees.
See the rainforest in a different light and discover some of the best lookouts and waterfalls in the region. The views of Surfers Paradise are simply spectacular.
8(9) Gold Coast Tours – Hinterland 4wd Tour
Hug that one – Big Tree near the Gold Coast
Discover the magnificent Gold Coast Hinterland by 4WD. First part of the journey is through prime beef grazing and farming land. Next you travel on to explore the World Heritage National Parks including Lamington and Tamborine Mountain.
Experience the natural wonders, breathtaking views, massive trees, cascading waterfalls, deep valleys, sheer mountain cliffs and the largest sub-tropical rainforest in Australia.
Kangaroos, Wallabies, Kookaburras, King Parrots, Bower Birds and more. Your camera should get a good workout. Also included in the tour is the Tree Top Walk and the Botanical Gardens at O'Reilly's.
9(10) Sail aboard a Tall Ship on the Broadwater – one of the best Gold Coast Tours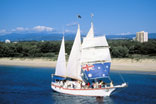 Tall Ship Gold Coast Enjoy a special little cruise onboard an authentic tall ship. along the famous Gold Coast Broadwater.
Begin your tour with a fast transfer to an exclusive tropical island paradise resort. Whilst on board, sit back, relax, take in the stunning views and enjoy a tasty morning tea.
Upon your arrival at the stunning nature reserve of McLarens Landing you can visit some tame wallabies and even feed them.
In afternoon take a leisurely Tall Ship cruise to the marina after which all should seem well with the world.
10(-) Surfing Lesson – Gold Coast Tours For Two
You could be a natural surfer you know, it is amazing how some people just pick it up really quickly. But even if it takes you awhile, you are almost guaranteed your first wave on the Gold Coast in Queensland, Australia. Now won't that be a memory to treasure and a story to tell.
Click for more on Gold Coast tours or click below for: