Things to do near Brisbane
What to do near Brisbane?
Moreton Island and Moreton Bay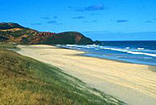 Moreton Island is one of nature's undisturbed wonders and one of the top things to do near Brisbane. It is the world's third largest island of its kind. This 17,000ha naturally formed sand island is situated in the Moreton Bay Marine Park, a mere 35km from Brisbane.
The vast majority of Moreton Island is a protected National Park. You'll struggle to find any tarmac. Moreton Island is 4WD only. What you will find is a diverse range of wildlife and vegetation. In addition to the remarkable scenery you can enjoy sand boarding, sand tobogganing, sailing, swimming, and snorkelling.
Sunshine Coast Caboolture
Caboolture Shire is beautiful and diverse area in every sense with sandy beaches, stunning mountain ranges and charming country villages.
Pumicestone Passage
Caboolture's key attraction is the Pumicestone Passage and the internationally recognised marine sanctuary off Bribie Island. It is home to an array of compelling species like dolphins, dugongs, turtles and over 350 species of bird life.
Glass House Mountains and Pumicestone Passage Marine Park
Mountains, Wildlife and Scones
A cruise gives passengers a wonderful opportunity to view the Glass House Mountains from the water as well as appreciate the environmental features of the Pumicestone Passage Marine Park. The marine park has 24 islands and is bounded by 240 kilometres of shoreline. These are just some of the wonderful destinations and top things to do near Brisbane.
Glass House Mountains and Pumicestone Passage Marine Park
Australia Zoo – Steve Urwin fame RIP
As well as the expected crocs the Australia Zoo is well stocked with animals including Cheetahs, Dingoes, Echidnas, Elephants, Kangaroos, Koalas, Otters, Possums, Gliders, Tasmanian Devils, Tigers and Wombats.
Gold Coast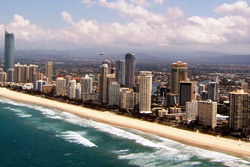 Australia's Gold Coast will take you about an hour to reach from Brisbane in the car. Just head south. If you follow the Gold Coast south all along its 57k length you'll end up in Kingscliff in Blues territory (NSW).
Broadbeach, Main Beach and Surfers Paradise
Gold Coast is famous for its beaches including Broadbeach, Main Beach, Surfers Paradise, Burleigh Heads and Coolangatta in Queensland and even Tweed Heads and Kingscliff in New South Wales. The Gold Coast is also home to several theme parks and a beautiful hinterland region. The scenery is breathtaking.
More about the Gold Coast
Byron Bay, NSW!
You just can't go past Byron Bay.

Byron Bay doesn't really qualify as 'things to do near Brisbane'. It is a two-hour drive away. It is not even in Queensland. Don't let these technicalities prevent you from going. Byron has its own unique appeal.
Byron Bay plus Hinterland and Lighthouse Tour
Head from Brisbane to Byron Bay for gorgeous beaches, dramatic headlands and a richly deserved reputation as Australia's laid back lifestyle capital. Visit Cape Byron Lighthouse, Australia's most Easterly Point. Look down on mile after mile of clean fresh beaches.
Take a dip in the ocean at Byron Bay's world renowned beach and experience the easy-going vibe that Byron Bay is famous for.
For more information follow the links below: