Top 10 Things to do in Queensland Australia
What to do in Queensland?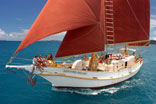 6 (7) Sail the Whitsundays
Set sail into the blue, blue yonder. These sailing vessels are an excellent way to explore the seventy-four beautiful Whitsunday Islands. Sailing in the Whitsundays is one of the most relaxing top 10 Things to do in Queensland.
Sailing in a Whitsunday Paradise
This unforgettable experience could well provide the highlight of your trip. You could find yourself hoisting the sails, taking the helm or simply soaking up your surrounds.
7 (10) Whitehaven Beach – Whitsundays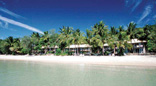 Whitehaven Beach is a must Whitsunday thing to do. The beach is a brilliant carpet of white sand stretching over six kilometres in length. Be prepared to be dazzled. The pristine expanse of 98% pure silica sand gives the beach and surrounds a clean, fresh appearance of very white sand fringed by brilliant blue water and lush tropical islands. Whitehaven is the best beach in the top 10 Things to do in Queensland.
8 (34) Long Island – Whitsundays
Long Island is the quiet achiever sliding its way into the top 10 things to do in Queensland. Time on Long Island is a relaxed affair. It's pretty quiet compared to the other top 10 things to do in Queensland. Oh dear, yawn, its paradise again. 🙂
Long Island is located close to the mainland in the heart of the Whitsundays. It is approximately 20 minutes from both Shute Harbour and Hamilton Island. The island gets it unimaginative name by being 9km long and not very wide. In a few places, like Fish Bay and Palm Bay, the distance between the western and eastern shoreline is little more than 300 metres.
More About Long Island
9 (13) Molle Group of Islands, Whitsundays
Windswept hillsides, rocky headlands with majestic hoop pines, golden sandy beaches, extensive fringing coral reefs, secluded coves, natural grasslands, open forest and rainforest sounds good to you then a spot of Molle Island cruising is probably the go.
Molle Island Cruising
Open eucalypt forests clothe the hillsides, rainforest grows in sheltered gullies and grasslands cover the more exposed slopes. The scenery here is simply magnificent.
Molle Group of Islands
The Molle Group of Islands are easily accessible by kayak due to their close proximity to the mainland. The surrounding waters are home to giant sea turtles, dolphins & a myriad of other marine life.
South Molle Island
On South Molle Island you may find the remains of a stone quarry for making tools and weapons from the Ngaro people.  Native Australians lived on these islands for thousands of years.
South Molle Island consists of:
405 hectares of National Park with numerous opportunities for bushwalking
Scenic beaches, bays and inlets.
South Molle Island Resort:
9 hole golf course on the resort with wonderful views over the Whitsundays and surrounded by National Park,
Snorkeling or swimming at one of the many easily accessible bays and inlets.
10 (21) Queensland's Gold Coast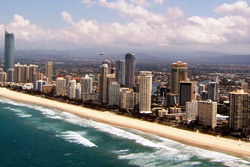 Regarded by many as a must visit. The Gold Coast has it all. Sun, sea, sand mixed with a host of things to do. The Gold Coast is Australia's most popular tourist destination outside of Sydney.
The Gold Coast offers it's visitors a smorgasbord of beachfront esplanades and a wide choice of restaurants. The Gold Coast has something for everyone and hence makes the list of top 10 things to do in Queensland.
Gold Coast Hinterland and Outback
If that all that wasn't enough there's more. Farms, rolling hills, mountains and World Heritage National Parks.
See No. 38 of the Top 40 Things To Do In Queensland for more information about the Gold Coast Hinterland.