Top 15 Things to do in Queensland, Australia
What to do in Queensland?
Just do nothing??
11 (3) Do Nothing at Cape Tribulation and in the Daintree in Far North Queensland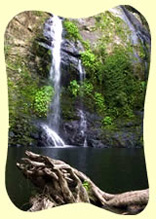 There's a nothing doing in the top 15 Things to do in Queensland. Just  breathe it in, soak it up and relax. Go for a quiet walk along the beach do anything so long as it's not much and not rushed. This your holiday, your time, take it slow and follow your own agenda. Paradise will be lost to you if you don't slow down long enough to experience it.
Spiritual Daintree
Take time out to truly see and experience the almost spiritual feel to the Daintree and Cape Tribulation. It will be one of the memories you walk away with.
Daintree Love
If you can stay awhile. However do not fall in love with the Daintree. The pain of catching the ferry for the last time will break your heart. The ferry master has little time for emotional tourists. Just know you are welcome to come back.
12 (12) Daydream Island Resort, Whitsundays
Situated on the heart of Australia's Great Barrier Reef the Daydream Island resort is easily accessible from either Shute Harbour, Airlie beach, or nearby Hamilton Island.
Daydream Island Resort includes:
A Rejuvenation Day Spas
Unique to Daydream is the man-made Outdoor Aquarium, a complex and stunning network of reef lagoons, containing over 40 marine fish species and 50 coral varieties.
Mini golf course
Restaurants
Tropical Bars
Gym
Tennis Courts
Outdoor Movie Cinema
13 (41) Fraser Island
At 123 kilometres long, 240 metres high and 184 000 hectares in size Fraser Island is the biggest sand island you will ever see.
World Heritage listed Fraser Island
World Heritage listed Fraser Island is much-loved by locals and visitors alike. Fraser Island's Dingo population are less popular. Please admire from a distance as these doggies most definitely bite.
Fraser Island – 100 freshwater lakes
Now I have scared you off you will find Fraser island is a place of exceptional beauty, with uninterrupted white sandy beaches flanked by distinctly coloured sand cliffs. Fraser island boasts over 100 freshwater lakes, some are tea-coloured whilst others are clear and blue and exquisite to swim in. Most of Fraser Island's lakes are ringed by white sandy beaches.
Fraser Island Rainforest
Fraser Island's ancient rainforests grow in sand along the banks of fast-flowing, crystal-clear creeks. The magnificent wildflower bloom in spring and summer adding to the islands colour and vibrancy.
Great Sandy Strait
The Great Sandy Strait, separating Fraser Island from the mainland, is an important wetlands area. Among the 40,000 migratory shorebirds the wetlands are home to rare and endangered species such as Dugongs.
How Long should you stay on Fraser Island?
A single day will not be enough to get the most out of Fraser Island but understand if you have no choice (I just pity you). Two or three days will probably do it unless you love camping and can afford the time.
14 (42)  Fraser Island Camping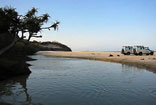 One of Fraser Island's Stunning Lakes
The reality is you probably should sell everything you own and stay in Queensland for as long as you physically can but it would be irresponsible to suggest any such thing so don't do it (but I know the feeling)
The Lakes of Fraser Island
A walk through a lush coastal eucalypt forest will take to the deepest lake on Fraser Island, the famous Lake Wabby. You might also appreciate the Eurong Beach Resort with its lush subtropical rainforest.  A highlight is Lake Birrabean, one of Fraser Islands Beautiful crystal clear lakes. The clear Fraser Island lakes have to be seen to be believed.
Visit Fraser Island
If you want to visit Fraser Island you would be advised to stay for as long as you can to make the most of your stay. Camping is a great way to do it.
15 (-) Hervey Bay

For many Hervey Bay is Queensland's number place to be. It certainly seems to be that way for Humpback Whales. It has even been described as the Whale Watching Capital of the World.
The weather also appears to be very fond of  Hervey Bay. With temperatures ranging between pleasant to perfect. When it rains it mostly falls somewhere else with more dry days than most other Queensland places to be. For more about Hervey Bay please follow the link below: