Daintree Rainforest
What to do in Queensland?
Top 80 from the World Heritage listed Daintree Rainforest to Gold Coast Hinterland
71 (47) Daintree Discovery Centre
The Daintree Discovery Centre tells us all about the World Heritage listed Daintree Rainforest. There's a lot to tell as the Daintree is one of the oldest forests on earth. The centre also possess some nice views across the top of the Rainforest.
Daintree Rainforest
Daintree Discovery Centre
The award-winning Daintree Discovery Centre will allow you easy access to Daintree Rainforest from the forest floor to its upper most branches. The Boardwalks,
Tower and Display centre combine to give you a solid understanding of the living, breathing wonder of the Daintree Rainforest.
72 (-) Rock climbing and Abseiling in Queensland
Whilst you are away why not try something a little a different. Jump off a cliff and come alive. Mostly Brisbane based but check as this changes.
Rock climbing and Abseiling in Queensland
73 (73) Currumbin Wildlife Sanctuary
Currumbin Wildlife Sanctuary has one of the world's largest collections of Australian fauna, including many rare and endangered species.
Currumbin Wildlife Sanctuary is also serious about research, rehabilitating sick and injured wildlife and educating future generations on the importance of conservation.
At the Crocodile Wetlands visitors can get new insights into some of the most highly adapted predators. We mean of course the Freshwater and the Saltwater Crocodile. The raised walkways allow you to view the Crocodiles and leave in one piece.  Visitors have a unique vantage point to see the crocodiles in action each day.
The entertaining wildlife shows also include the Free Flight Bird Spectacular, in which majestic birds of prey display their natural abilities in silent flight, feeding on the wing and amazing airborne agility.
Visitors can then get up close and personal with some of Australia's fascinating mammal and lizard species at the Totally Wild Show. Afterwards see some of the world's deadliest snakes in Snakes Alive.
Visitors can also enjoy the famous wild lorikeet feeding, traditional Aboriginal dance performances and animal talks.
74 (13) Daintree Rainforest Fruit Tasting
Cape Tribulation is one of the few places in the world you can taste fruits like these so you why not try something different.
75(104) Gold Coast Hinterland
Everybody need to get away from time to time. You'll appreciated the beach, sun and sand more if you getaway to the country for a day.
What appeal might the Gold Coast Hinterland have for you? Well there's ballooning, quaint mountain villages, galleries and antiques. There are markets with fresh, locally grown produce, delicious wine and even a brewery. The natural beauty is the areas key attraction blessed with some of Queensland's most frequented National Parks.
There are more walks than you can possibly do from the short and cruisy to the hard and the doozy. Picturesque valleys, streams and waterfalls are there to be seen and explored, for those Of us who like to look down on such activities how about a skywalk through the rainforest available at both Mount Tamborine and Lamington National Park.
If you are wondering how you are going to find the time to do all this don't fret. Do the stuff you like the sound of the most and come back another time for the rest.
76 (60) Cruise Cuddly Brisbane
Experience Brisbane's best bits from the Brisbane River and get cuddly with a koala.
77 (24) The Trip of a Lifetime – Cape York, Queensland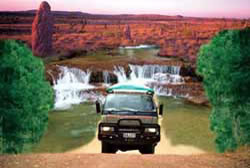 A trip to the Tip (that's short for Tip of Australia aka Cape York) is an experience similar to that of Australia's early white explorers except you should be far better prepared and equipped, unless you want to live off bugs and get seriously ill.
The natural wilderness is mostly unspoilt and undeveloped. Remote savannahs, ancient rainforest, amazing wildlife, even more amazing people, fishing no one ever believes, unparalleled 4WD adventure, the list goes on. It's exciting but it's also not to be taken too  lightly, plan and be prepare, unless you like eating bugs…
78 (64) Magnetic Island
As you might have guess with the name, Magnetic Island is a very attractive place to be and it's the water around it is one of places most people are attracted to in Jetskis, Kayaks, Sail Boats Swimming and Snorkelling over its reefs or just lazing in the sun from your own (rented) yacht. Marine life is in abundance including dolphins, turtles and colourful fish all overlooked by magnificent sea eagles.
To explore the Island itself there's a number of different tour options from bus to a ride on a Harley Davidson. Then there's horse riding, tennis, golf, lawn bowls, a fair old list of options. So if you're thinking, there's not a lot to do on an island, that doesn't really apply here. Maybe there's too much..
79 (86) Chillagoe Limestone Caves (Atherton Tablelands)
Around 380 million years ago Chillagoe was a coral reef. As the sea levels dropped and the earth crust shifted, the limestone reefs began to form a towering landscape of limestone bluffs.
Many of these structures eroded and gradually moulded into spectacular serrated towers. Some now rise 70 metres above the surrounding plain. Subsequent volcanic activity turned the limestone into marble.
The Chillagoes caves were formed by mildly acid water dissolving some remaining limestone. The air in the caves has solidified the limestone into stalagmites and stalactites.
Ancient fossilised remains of terrestrial crocodiles and giant rat kangaroos and wombats have been found in 600 odd Chillagoes caves.
Only a few of the caves are open to the public. You will find the temperature inside them a pleasant 23 degrees
You should also visit the historic copper smelter ruins and explore the history of the area. Chillagoe was a very different place in 1917 with a  population of around 10,000. Now there are only 150 left. Find out what happened.
80 (49) Wallaman Falls – Near Ingham
The path to Wallaman Falls is an easy family friendly stroll. Allow an hour for a return trip to get the most out of the experience. The path takes you through the rainforest and along the banks of Stony Creek.
Platypus
You might even be rewarded with the sight of a platypus in one of the rock pools along the way. You may also hear the plop of a water dragon seeking refuge in the stream.
Saw-shelled Turtles
You might also see Saw-shelled Turtles basking on the logs or briefly through the surface of the creek.
The best time to walk is between April and September when the weather and track conditions are at their best. Check conditions before you go.
How to get to Wallaman Falls
Wallaman Falls is roughly 51km south-west of Ingham. Allow at least an hour to drive through and enjoy the rural landscape. Head west from Ingham along Abergowrie Road to Trebonne. From there just follow the sign-posts. Take care as parts of the road are unsealed. Take particular care on the range when wet.