Great Barrier Reef Queensland, Australia
What to do on Great Barrier Reef, Queensland, Australia
Ranked the number 1 thing to do  – The Great Barrier Reef Queensland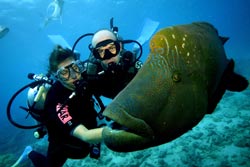 The Great and the Beautiful Great Barrier Reef Queensland
One of the great wonders of the world for its size (2,000 km in length) and splendour the Great Barrier Reef awaits you just off the Queensland coast.
How to see the Great Barrier Reef
You have to get under Down-Under to really experience the Reef, close up and personal. That said, snorkeling is easy, great fun and allows you to really relax and enjoy yourself. Do both is my advice.
I can't swim – so sink into the Great Barrier Reef
You don't have to be a good swimmer to see the Great Barrier Reef but you do have to experience it somehow. Poor swimmers make the best first time divers, they know how to sink and don't wonder off on their own. I sank, floated, then smiled but not too much as smiling can let the water into your mask.
I can't swim – so snorkel over the Great Barrier Reef
Borrow some flippers, a mask, an understanding friend or relative and get yourself down to your local swimming pool. If you feel a little foolish don't. Just remember why you are doing it and what awaits you at the end of it all. Take lessons if you need to build your confidence.
I said I can't swim stupid !
If you really don't want to get wet there is nothing wrong with a the glass bottom boat.
Stay calm
Ideally you would want to be in the water on a calm day – improves the visibility and soothes the mind, although if you are diving it makes less of a difference.
Avoid the Crowds
Avoid selecting tours purely on price unless you have no choice or like sharing a lot with a lot.
More on the Great Barrier Reef, things to do and more: