Top 5 Tours of the Great Barrier Reef in Queensland Australia
What are the best Great Barrier Reef tours?
For details and other options just follow the link at the bottom of this page.
1 Award Winning Great Barrier Reef Day Tour
Day Tour of the Great Barrier Reef
Four consecutive Queensland Tourism Awards must stand for something. If you are going to experience one of the world's nature wonders do it with the best.
Passions of Paradise travels daily to two of the most sought after locations on the Great Barrier Reef; Michaelmas Cay and Paradise Reef. Their modern 25 metre maxi-sailing catamaran will ensure you travel in style and comfort without the large crowds.
Michaelmas Cay
Michaelmas Cay is an unspoilt paradise recognised internationally as one of the most important bird nesting sanctuaries on the Great Barrier Reef. The cay combines brilliant white sand and warm shallow water. It has an abundance of coral and marine life. The cay also provides excellent protection no matter what the weather. Passions of Paradise's rare permit allows beach access which is perfect for first time snorkelers.
Paradise Reef
Pristine Paradise Reef is an exclusive destination. This means there are no crowds from other boats. Located on the famed, Outer Great Barrier Reef, this hard coral reef system boasts excellent water clarity, is host to many exciting fish species and the coral is in magnificent condition. Many species of marine life are unique to this area allowing passengers to witness unequalled diversity all in one day.
2 Great Barrier Reef One Day Cruise
If you only experience the Great Barrier Reef once, you will want to see it at its best. Outer Reef locations such as Marine World are renowned for their superior coral quality and overall diversity of reef life.
With the smallest platform passenger numbers you have both the time and space to enjoy the largest range of reef activities available in a relaxed, fun and personalised atmosphere.
3 Great Barrier Reef Island Sailing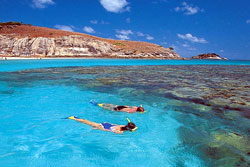 Discover the magic of a Great Barrier Reef Island
Set like a jewel in a Great Barrier Reef lagoon, Low Isles is an uninhabited, unspoilt coral island that appeals to everyone. And why not, when this is everyone's idea of a secluded tropical paradise! The wide, sandy beach and clear, calm lagoon waters are ideal for swimming and snorkeling.
4 Reefworld – Great Barrier Reef Cruise to Reefworld
Travel aboard these high-speed luxury catamaran to the idyllic Great Barrier Reef for a day of unsurpassed adventure.
Reefworld is located at Hardy Reef. It is your base for exploring this natural wonder. Hardy Reef is one of the most beautiful and prolific of nature's coral gardens. The vibrant coral and abundance of marine life can be experienced whilst snorkeling or diving. So many colours and thousands of fish! Alternatively enjoy the reef without getting wet aboard the large spacious semi-submersibles.
5 Great Barrier Reef By Helicopter
You have to see it to believe just how big the Great Barrier is. The only way you can really appreciate its size and magnificence is from the air. Take off on a helicopter flight with views over Cairns and head out over the Coral Sea. Bring your Camera for this wonderful experience.
For bookings, info and other tours click here or to keep going just go below and click on the: