Port Douglas to the Gold Coast
Top 60 Things to do in Queensland, Australia
What to do in Queensland?
51 (12) Port Douglas
Port Douglas is where luxury meets the reef. Located just 67 kilometres north of Cairns, Port Douglas is easy to get to but much harder to leave.
Port Douglas was named after John Douglas, a past Queensland Premier. The town competes with Cairns as the most important centre in Far Northern Queensland. Cairns has the Airport whilst Port Douglas has the resorts.
Port Douglas last outshone Cairns in the early 1900's with gold fever. I failed to find any but I'm sure a few of Port Douglas's visitors have had more success. 🙂
Through the Port Douglas Palm trees and may spy manicured lawns, 'condominiums', private golf courses, lavish tennis courts, ridiculously expensive restaurants and overpriced 'fashionable' arcades. Port Douglas has become a little surreal.
So, if you do nothing else, grab yourself an overpriced coffee and see if you spot a rich thing doing a rich thing. You might even spot a celebrity.
Attractions In and around Port Douglas
Lookout from Flagstaff Hill
Flagstaff Hill Lookout (Locally known as 'The Lookout') gives you a nice view over Four Mile Beach and the Coral Sea.
Turn right at the end of the main street and follow the signs.
Four Mile Beach
White sand at Four Mile Beach make it one of the most attractive beaches in the area
Port Douglas Sunday Markets
Cotters Market by the Sea. Held every Sunday at Anzac Park from early in the morning and starts to close around mid-day.
Port Douglas Courthouse
Wharf St this is the only 'old' (by Australian standards) building dating back to the Goldrush in 1879.
The Rainforest Habitat
Probably a sign of things to come. You'll find The Rainforest Habitat is artificial rainforest environment close to the real Daintree Rainforest habitat.
It is a lot more efficient to have all the wildlife in one spot. The Habitat does not just cover Rainforest so it could save you quite a bit of travel time… hmm.
Port Douglas Tropical Fruits Winery
On my hit list next time I'm here is the Shannonvale Tropical Fruit Winery.
Saint Mary's by the Sea
Find me somebody to love with bags of money and this could be where you end up. Beautiful little Church with nice views out to sea.
52 Reefworld
Travel aboard a large, high-speed, air-conditioned catamaran to the idyllic Great Barrier Reef for a day of unsurpassed adventure.
Reefworld, located at Hardy Reef, is your base for exploring this natural wonder. Hardy Reef is one of the most beautiful and prolific of nature's coral gardens, confirmed by the vibrant coral and abundance of marine life.
Great Barrier Reef Cruise to Reefworld
53 (65) Party Time at Surfers Paradise, Gold Coast
Quiet Night Out (Not)
Time to party on the Gold Coast. The Gold Coast has a reputation as a party town.
54 (52) Dunk Island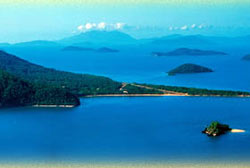 Dunk Island is a picturesque island with a 271 metre bump at its centre. It's a tough walk around the island but very rewarding.
National Park
There is a cafe and bar at the southern end of the main beach (Brammo Bay). There is also a camping ground on the National Park.
Mission Beach
The resort on the island is ideally suited to love stuck, joint at hip couples and those escaping from their children. Dunk Island is accessible from Mission Beach.
55 (64) Gold Coast Surfing
Give it go, before you know you'll have blond hair, be deeply tanned and members of the opposite sex will be hanging around you like flies. 🙂
Alternatively, perhaps you already have members of the opposite sex bugging you all the time and this may be a method of escape.
Learn to Surf on the Gold Coast
56 (72) Reef HQ (near Townsville)
Reef HQ Aquarium Entry
Reef HQ Aquarium
Reef HQ is the world's largest living coral reef aquarium. Both a tourist attraction and an educational facility, reef HQ boasts a range of displays and exhibits designed to stimulate visitors.
Great Barrier Reef
The huge aquarium acts as a window to the reef revealing thousands of incredible coral, fish and reef creatures. Reef HQ is your opportunity to visit the Great Barrier Reef without getting wet, sun-burnt or seasick.
57 (90) Kuranda – Village in the Rainforest
Kuranda is a tourist village but it is pleasant enough with a colourful Australian Butterfly Sanctuary to visit, restaurants and cafes to relax in and watch the world go by.
Kuranda Scenic Railway
The Kuranda Scenic Railway is a spectacular journey comprising unsurpassed views of dense rainforest, steep ravines and picturesque waterfalls. This railway winds its way on a journey of approximately 1 hour 45 minutes from Cairns to Kuranda, the village in the rainforest.
58 (81) Queensland Golf
As someone once said, what's the point of walking if you have nowhere to go? If you play then a round of golf in Queensland is like no other.
59 (99) Australia Zoo – Steve Urwin fame RIP
As well as the expected crocs the Australia Zoo is well stocked with animals including Bettong Camels, Cheetahs, Dingoes, Echidnas, Elephants, Foxes, Kangaroos, Koalas, Otters, Possums and Gliders, Tasmanian Devils, Tigers and Wombats.
Somewhat different to a more traditional zoo the Australia Zoo has 'wildlife action every day and move at a great rate of knots to bring you the most action-packed LIVE shows and exciting encounters with [their] amazing animals'.
Ticket prices reflect the show nature of the Australia Zoo. None the less if you get bored easily this could change your view of what a zoo should be like.
Opening Hours 9am – 4:30pm.
You'll find the Australia Zoo is about a two-hour drive from the Gold Coast at Beerwah.
60 (52) Skydiving Fraser Island
Come fly with me, come jump and skydive away and see the whole of the Fraser Island very quickly.You have to do one a crazy thing whilst on holiday. May as well go for the big one, just don't tell your mum until afterwards.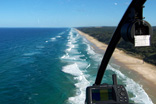 Coloured Sands of Rainbow Beach
Experience the Ultimate in Beach Tandem Skydiving with amazing coastal views over Fraser Island. You'll see Carlo Sandblow, Double Island Point and the Coloured Sands of Rainbow Beach. You will get to see it all from a sensational perspective. Freefall at speeds of up to 220km per hour!  Drop from 14,000 feet! Enjoy the view on the way down.