Top 40 Things to do in Queensland, Australia
What to do in Queensland?
36 (16) Sea Kayak to Snapper Island, Cow Bay, Daintree Coast
One of the top 40 things to do in Queensland is to get up early and kayak some gentle ocean waves. The Sea Kayak to Snapper Island operates from Crocodylus Village, Cow Bay, Daintree Coast.
Snapper Island National Park
Snapper Island National Park is situated 2 kilometres from the mouth of the Daintree River, in Tropical North Queensland. The island is uninhabited,
filled with tropical rainforest and surrounded by magnificent coral reef and white sandy beaches. Accommodation on the island is extreme open plan – camping on the beach. Who needs air-conditioning.
Minimum age is 10 years. For more click below:
37 (68) Great Barrier Reef By Air
It is a great experience to experience the Great Barrier Reef from the air.
Please Do look down
Perhaps size isn't everything but how do you really 'see' a 2,ooo kilometre  long natural wonder of the world? The Great Barrier Reef is so big it is visible from space. Fortunately, a scenic flight spares you the years of training necessary to become an astronaut.
Rainforest and Beaches Scenic Flight – aerial view of Cairns

A helicopter scenic flight is one of the best ways to see the most beautiful sights that Cairns has to offer. Upon arrival at the airport, you will be greeted by your pilot and be given a safety briefing prior to your flight.
Barron Gorge
Within in minutes you'll see ancient rainforest covered mountainsides and valleys only minutes from the centre of Cairns. You'll view world heritage listed rainforest, Kuranda and the magnificent Barron Gorge, before flying over the exclusive Northern Beaches region.
Only from the air can the scale of these rainforests and their beauty be truly appreciated.
For more about the Great Barrier Reef.
38 (62) Gold Coast Hinterland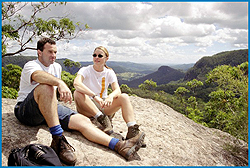 The Gold Coast Hinterland is a natural wonderland conveniently situated close to the man-made version on the Coast. If you choose to explore the Gold Coasts Hinterland's you will be treated to a display of the rugged beauty of World Heritage National Parks, outstanding and unique flora and fauna and quaint rural townships with their adjacent sprawling farms. All about 30 minutes drive from Surfers Paradise. A few boxes to be ticked:
• Hinze Dam
• Springbrook National Park(Natural Bridge, Mt Cougal, Numinbah Valley)
• Beaudesert (Kooralbyn Valley)
• Canungra
• and the World Heritage Lamington National Park
39 Great Barrier Reef Island Sailing – Low Isles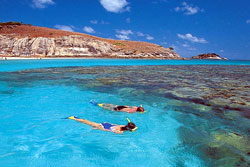 Discover the magic of this idyllic Great Barrier Reef island onboard luxury sailing catamaran Wavedancer.
Great Barrier Reef Lagoon
Set like a jewel in a Great Barrier Reef lagoon, Low Isles is an uninhabited, unspoilt coral island that appeals to everyone. And why not, when this is everyone's idea of a secluded tropical paradise! The wide, sandy beach and clear, calm lagoon waters are ideal for swimming and snorkeling.
Great Barrier Reef Island Sailing
40 (-) Bungy Minjin Jungle Swing
The things people get up to in Cairns
Did you like the swings when you were a kid? Imagine swinging high in the air and then plunging towards the ground. As you lie in the hanging harness of the Minjin Jungle Swing you are in complete control. It's your decision when to pull that release cord! You can do this solo or with a friend. If they can handle it!
That's the top 40 things to do in Queensland! Still a lot more to come. Just follow the link to the next page below: