Top 20 Things to do in Queensland
From Cairns to the Gold Coast
What to do in Queensland?
16 Green Island near Cairns
The only thing wrong with the first of the top 20 things to do in Queensland is that the time will pass far too quickly.
Idyllic Coral Cay in Paradise
Green Island is an idyllic coral cay in paradise. Snorkel off the beach over stunning coral reefs, ablaze with colour and teeming with exotic reef fish. Explore the island rainforest, walk around this tiny coral cay or simply relax and take it all in.
17 (74) Whale watching from the Gold Coast
Humpback Whale
Nothing quite like seeing these beautiful creatures in a small craft. Assuming you don't have your own boat you will need a ride on someone else's.
18 (11) Hayman Island Whitsundays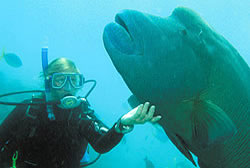 Hayman Island in Australia's magnificent Great Barrier Reef, is a resort island destination. Whilst the resort is excellent it is hardly unique. Hayman Island and the Great Barrier Reef is a different story.
Hayman Island's Sandy Beaches
You can look forward to Hayman Island's sandy beaches, sunny weather and crystal clear water. From the resort there is the usual assortment of water activities and daily international competitions for the best spots around the swimming pool.
Hayman Launches
Hayman Island is accessible by Hayman launches with sea planes and helicopters also available. Alternatively, why not just sail over there from the mainland
19 (46) Noosa Heads
Noosa is a cosmopolitan and friendly place with a laid-back holiday feel attracting scores of visitors every year. For many Noosa is the place to be. Arguably it should rank more highly in the top 20 things to do in Queensland. Mind you it has some tough competition as you may have already seen.
Noosa Everglades
Beautiful Noosa River, Lakes and Everglades
One of the many attractions Noosa has to offer is the beautiful Everglades. The natural beauty of this unique wilderness is something  you are unlikely to forget. Wander through mangrove wetlands at the Kinaba Information Centre and discover a place of peace and tranquility.
20 (43) Scary Brisbane – Ghost by Boat (St Helena)
'The Hell Hole of the South Pacific' be glad you went and grateful you weren't sent!
St Helena Ghost Tour
A St Helena Ghost Tour is a memorable night out with a historical and eerie twist.
The Hell Hole of the South Pacific
After a forty minute cruise the real, scary fun begins! Let your imagination take over and relive these harsh times on the island once known as, 'The Hell Hole of the South Pacific'. The night on the island culminates at the cemetery. Be prepared for the unexpected.
Follow the link below to move on or go back from this page of the top 20 things to do in Queensland: