Sound of Silence on Orpheus Island and the sound of the Whales
Top 90 Things to do in Queensland, Australia
What to do on Orpheus Island Queensland ?
From the sound of silence on Orpheus Island to the sound of Humpback Whales on the Gold Coast
81 (50) Orpheus Island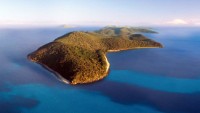 Orpheus Island is located off of Ingham in northern Queensland is renowned for its beautiful reef. Orpheus Island is primarily National Park stretching 11 km in length but only a kilometre across.
Orpheus Island Resort is a luxury resort but has no telephone or television. What was that noise? The sound of nothing! Alternatively you could camp in the island's National Park.
Orpheus Island is accessible by seaplane from Townsville or by launch from Lucinda.
82 (57) Close To Brisbane
The Gold Coast, Noosa and Sunshine Coast and Fraser Island are all 'touring' or day 'tripable' distance from Brisbane. These are covered elsewhere on Queensland100. There are many other tours to choose from.  Below you'll find a link to some of them – and no, we don't get a commission 🙁
83 (95) Lakefield National Park
Lakefield National Park has become increasingly popular offering vast and strange landscapes in a wilderness far removed from our daily lives
For bird lovers visit Horseshoe Lagoon (4WD only) and Caulders Lake. The National Trust Old Laura Homestead is also worth a visit.
Lakefield National Park is much-loved by saltwater crocodiles. The Lonely Planet apparently once recommended canoeing and rafting in the park. If you have that particular copy I suggest you invite them up to give it a try. Should make for some interesting holiday 'snaps'.
84 (77) Brisbane
Brisbane may lack the spectacular appeal of Sydney but that doesn't mean there are some great things to do.
Mt Coot-tha Lookout
Take the drive up to the top of Mt Coot-tha to get a view of the whole of Brisbane city then drive back again 😉 Pick your day of course or risk wasting your time. From Mt Coot-tha Lookout you can see the river, the freeway, and the skyline of the CBD. Having done that you can honestly say you have seen Brisbane. On a clear day you can see southwest to Moreton Bay and miles in every other direction.
South Bank
South Bank has a sandy beach, grass, shops, places to eat, cinemas, 'street' entertainment the occasional festivals and the obligatory fireworks.
The Cultural Centre
Contrary to what you might think, Australia does have one. You'll find some here. The Cultural Centre is a good wet weather destination.
Lone Pine Koala Sanctuary
Here is your chance to cuddle a koala – illegal in NSW), feed a kangaroo and listen to a talk on reptiles… There's no need to leave the city to experience these amazing animals but I would.
85 (-) Cruise the Gold Coast
Cruise the Gold Coast Canal
Ride in comfort in a fully licensed, air-conditioned purpose-built canal vessel. Inspect some of the world's most beautiful high-rise apartments and the magnificent homes and lifestyles of the rich and famous. Maybe you'll discover your future home.
86 (102) Toowoomba
Being 700m above sea level means Toowoomba caters for cold weather and fallen leaves in autumn. They have an autumn. You may also discover some scenic views, boutique wineries and nearby national parks.
87 (75) Daintree Coast Rainforest Board Walk
Fan Palms Board Walk
A short 20 minute boardwalk into the fan palm gallery. The boardwalk takes you through a giant gallery of fan palms, tropical orchids and rainforest. Wildlife you might see includes Cassowaries, Boyds Forest Dragon, Muskyrat, Kangaroo, & Scrub Turkey. Suitable for wheelchairs. No charge if you have a cup of coffee at the Fan Palms Cafe, a great spot to chill and relax.
The cafe located on the right hand side just past Daintree Wilderness Lodge.
Daintree Coast Rainforest Board Walk 
88 (-) The Tweed
First place you'll come to in Queensland if you are travelling up from NSW on the Pacific Highway. The Tweed is in both NSW and Queensland. They boasts of a fair bit to do and spectacular scenery claiming that it is 'unlike anywhere else on Earth'.
89 (23) Mission Beach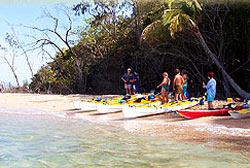 Situated approximately equidistant between Cairns and Townsville Mission Beach is the logical base for visiting the islands of the Hinchinbrook Channel.
Mission Beach stretches north from the Tam O'Shanter Point through South Mission, Wongaling, Mission Beach, Clump Point to Bingil Bay.
Things to do on and around Mission Beach:
Find your own secluded cove
Beach & rainforest walks
White Water Rafting,
Tandem Skydiving
Horse Riding
Fishing
Sailing
and Kayaking:
90 Football
The two main codes of football in Queensland are Australian Rules (AFL) and Rugby League. Football, as most know it, is called soccer in Australia.
The choice is Brisbane Broncos, Gold Coast Titans, Queensland Cowboys or just Queensland – the state representation side, all Rugby League or Brisbane Lions (AFL).
AFL is played by the Brisbane Lions. The interest for the neutrals is working out the rules (not many) and enjoying the crowd reaction which is verbally hostile to the opposition and more so towards the officials but little else. It is an opportunity to yell at someone. (If you have kids you may as well stay at home)
A version of AFL is played in Ireland and that's it. The game picks an international squad but not sure they actually play the Irish. More research required, I'll get back to you.
Rugby League is played by more nations but the highlight of the season is State of Origin. NSW and Queensland have been playing each other every year since the dawn of time (60s – 70s?) and amazingly the aggregate the score difference is just handful of points. Clearly the game is fixed but the secret is yet to get out.
If you can see a game at Suncorp, the Queensland stadium, you will be impressed by the passion and feeling for State of Origin. It is almost tangible. Just one tip – don't where blue (NSW's colours).
www.suncorpstadium.com.au – Rugby League
www.lions.com.au – AFL