Things to do in the Beautiful Whitsundays, Queensland Australia
What to do in the Whitsundays?
The Whitsundays is the cream on top of the Queensland Cake. Rich in colour, creamy in texture and a flavour that makes you want more and more. The difference is you'll never get sick of the Whitsundays.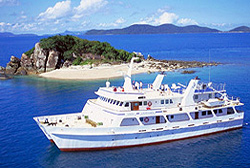 Captain James Cook passed through Whitsunday passage On Sunday 4th June which happened to be Whit Sunday (the seventh Sunday after Easter). He had said 'my god this place is gorgeous' but the name was never officially adopted 🙂
The Whitsundays consists of the tops of 74 semi-submerged mountains. Now the mountain tops are tropical islands. Only eight Whitsunday islands are inhabited, most of the islands are National Parks and all of them are fantastic.
Some of the ways in which people enjoy the Whitsundays:
Tall Ships provide a regal presence of the traditional rigged sailing vessels of the past. This is a wonderful way in which to experience the splendour of this place.
Visit Whitehaven Beach, the best Beach in Australia. Whitehaven is located in the Whitsunday Islands and Airlie Beach Region. If you like your beaches to be white then it doesn't get much better. Make sure you take your camera with you.
Explore a long island. Long Island is a relatively quiet place close to the mainland in the heart of the Whitsundays approximately 20 minutes from both Shute Harbour and Hamilton Island.
Kayak to Molle Island – Visit the Molle Group of Islands for windswept hillsides, rocky headlands with majestic hoop pines, golden sandy beaches, extensive fringing coral reefs, secluded coves, open eucalypt forests clothe the hillsides, rainforest grows in sheltered gullies and grasslands cover the more exposed slopes. It does sound yummy doesn't it. The scenery here is simply magnificent. The Molle Group of Islands are easily accessible by kayak due to their close proximity to the mainland.
Fancy a spot of Daydreaming? On the Whitsundays you don't even need to dream it, just be there. Spend a dreamy day on Daydream Island or, if you prefer go for the full range of activities and water sports offered by the island resort. It is also far from quiet at night. A sort day dreamy action packed paradise kind of place.
Airlie Beach
A lot of visitors commence their exploration of the Whitsundays from Airlie Beach. That's not to say you shouldn't spend some time there. You just kick-back and enjoy the landscaped parkland. Explore the village streets overlooking the picturesque lagoon. Then there's the nightlight to enjoy. Just don't forget the early start 🙂
For Information On the Whitsundays just follow this link