Top 45 Things to do and Places to Visit in Queensland Australia
What to do in Queensland?
Be drawn towards Magnetic Island
41 (22) Magnetic Island near Townsville
Magnetic Island National Park
A day or many spent on Magnetic Island is a fantastic break and is one of the top places to visit in Queensland. Over 90% of the Island is green with half of that is National Park. Magnetic Island scores highly as an attractive escape destination and is one of the top places to visit in Queensland. The Island has 36 kilometres of bush and bay tracks. If you walk far enough you are bound to find one to yourself.
You can hire most forms of transport from limos to push bikes. Watch out for the cute looking Rock Wallabies. Magnetic Island is just 27 nautical miles from the Great Barrier Reef and a twenty-five minute ferry ride from Townsville.
Travel to Magnetic Island by Ferry
It takes just 25 minutes for the ferry to reach Magnetic Island. The ferry is air-conditioned and has a licensed bar and snacks. They also supply free tea and coffee. The outside decks allow you to catch the sea breeze. Three ferries and up to 15 trips per day take the locals and holiday makers across to this wonderful place. You can choose to stay for a half day, full day or overnight. Once you have purchased your ticket you can travel to and from the Island whenever you like.
If you don't have the time to experience the full majesty of Magnetic Island don't despair. Just return.
42 (49) Sunshine Coast Hinterland – Winery & Gourmet Trail
The Sunshine Coast's grapes are grown in a diverse range of micro climates making this wine region one of most enjoyable in the country to visit. The wine makers here can grow and source such a variety of grapes that you never quite know what little gems you'll discover. One thing is for sure you will be able to savour some quality wines, feast your eyes on the beautiful scenery and relax in response to a warm welcome. The Sunshine Coast Hinterland is another of the top places to visit in Queensland.
43 (41) Skyrail, near Cairns
Skyrail
Not sure if this started the tree-hugging movement but there was some seriously big tree hugs at the time of Sky Rails construction. The Sky Rail is there now and the trees it replaced are not so you may as well enjoy it.
Skyrail Rainforest Cableway
At 7.5kms Skyrail Rainforest Cableway is the world's longest gondola cableway.
Cairns' Tropical Region
Skyrail takes you over the rainforest canopy in a gondola cabin. Sky rail gives you the highest ground when it comes to rainforest scenery, panoramic views of the Cairns' tropical region and the Coral Sea – yet another one of the top places to visit in Queensland.
Rainforest Interpretation Centre
Skyrail's stops at Red Peak and Barron Falls. You can explore the forest floor, enjoy scenic lookouts and the modern Rainforest Interpretation Centre.
CSIRO Interpretative Centre at Barron Falls Station
The Barron Falls Station has great views of the magnificent waterfall, particularly during or soon after a good rainy season. Visit the CSIRO Interpretative Centre at Barron Falls Station for more than you need to know about he plants and animals of the area. Barron Falls is another one of the many great places to visit in Queensland.
Skyrail Rainforest Cableway
Skyrail Rainforest Cableway is open all year except for Christmas Day. Gondolas swing continuously. The whole trips last an hour and a half one-way with twenty minutes at each station.
44 (-) Sail aboard a Tall Ship on the Gold Coast Broadwater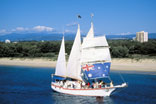 Enjoy one of the most unusual experiences that the Gold Coast has to offer. Seriously chill on board an authentic tall ship along the famous Gold Coast Broadwater.
45 (71) Queensland National Park – Natural Bridge

The spectacular Natural Bridge is best seen early in the morning or late afternoon to avoid the crowds.
Glow-Worms
To see the amazing colony of glow-worms you'll need to be there after sunset. On summer nights you may also see luminous fungi and fireflies.
Paradise Riflebirds
Listen out for the calls of Paradise Riflebirds, Green Catbirds and Wompoo Fruit-doves during the day.
Rainforest Lookouts
There are a number of lookouts to visit with views over lush rainforest. The is a magical spot.  It is even possible to take a stroller or a wheelchair to the lookout. Stick to paths and please keep a close eye on your children.
The Natural Bridge is one of the top places to visit in Queensland.