What to do in Brisbane
Things to do in Brisbane?
This selection of what to do in Brisbane comes from a more complete listing of top things to do in and around Brisbane. Below you will find some of the highlights:
Brisbane Five in One Attractions Pack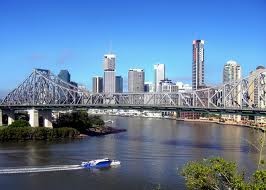 A good answer to the question of what to do in Brisbane is to just do the best. You can achieve that with your choice of entry to five top attractions in and around Brisbane. The list of attractions includes the Lone Pine Koala Sanctuary, Riverlife Adventure Centre, XXXX Brewery Tour, City Sights Hop on Hop Off, Kookaburra Queen River Cruises and many more.
Brisbane Bridge Climb – Climbing the Brisbane Story Bridge
What to do in Brisbane – Scale to the top of Brisbane's iconic Story Bridge to discover the city from a spectacular bird's-eye perspective. Based at Kangaroo Point, Story Bridge Adventure Climb (SBAC) is one of only three such experiences in the world and is a 'must do' on a visit to Brisbane.
Brisbane Wildlife
This city has just about everything you could possibly think of to do. However one of the very top things to do in Brisbane is the Wildlife Cruise.
Brisbane Wildlife Cruise
Wildlife Habitats
Experience the cruise aboard Brisbane's most famous river Boat, MV Mirimar, takes you 19 kilometres (12 miles) upstream through some of the city's most attractive suburbs and most interesting wildlife habitats.
Human Habitats
You'll see modern mansions alongside graceful old Queenslander homes with their wide verandahs and wrought iron lace work – all overlooking lush river-front gardens.
Flying Foxes
Come close to flying foxes (fruit bats) in the wild. You'll have the opportunity to get a close up view of a unique inner-city colony of fruit bats – so close you can hear the beating of their wings.
Brisbane's History
And you'll learn all about Brisbane – some of it amusing and some of it horrifying as the Captain gives his account of Brisbane's checkered past.
Lone Pine Koala Sanctuary
What to do in Brisbane? Visit the Lone Pine Koala Sanctuary. Cuddle a Koala, hand feed Kangaroos and marvel at Australia's many more animal wonders. Lone Pine Koala Sanctuary is one of the top things to do in Brisbane.
Close (ish) to Brisbane
Byron Bay, NSW!
What to do in Brisbane? Go to Byron Bay! It's a bit a rude to write about somewhere by raving about somewhere else. It's even worse when it's not even in the same state. I'm guilty, forgive me but you just can't go past Byron Bay. Whilst not exactly in Queensland, well it's not in Queensland at all actually but don't let this technicality stop you. Byron has its own unique appeal and is a must see kinda place.
Byron Bay plus Hinterl and Lighthouse Tour
andWhat to do today in Byron Bay
Head from Brisbane to Byron Bay for gorgeous beaches, dramatic headlands and a richly deserved reputation as Australia's laid back lifestyle capital. Visit Australia's most Easterly Point, Cape Byron Lighthouse. From there take in the views of the coast below with inviting beaches stretching for miles.
Still not sure what to do in Brisbane? Follow the link below: