Top 5 Best Tours of Cairns Australia
What are the best tours to go on from Cairns Australia and Tropical North Queensland?
For more details on each tour please follow the link at the foot of the page
No. 1 Cape Tribulation and No. 2 Daintree Rainforest
If you are staying in Cairns Australia you must get yourself north up to Cape Tribulation. Once you cross the Daintree River you soon start to appreciate this is a special, some might say, even spiritual place. The scenery is simply breathtaking.
The Cape Tribulation tour select below has been running for some years and they know their Cape Trib and Daintree Rainforest. We recommended you select the canoeing option. Details are as follows:
Daintree Cape Tribulation Day Tour
The World Heritage Daintree Rainforest is a pocket of ancient tropical rainforest locked in a biological time capsule on the driest continent on earth. Our skilled guides are experts on the unique flora and wildlife of the Daintree's wet tropic coastal lowlands and the mysteries of its evolution and survival over millions of years.
Join us for a well-organised day, planned from the knowledge we have gained over 21 years of operating guided tours into the Daintree Rainforest. This tour is accessible from Cairns.
Daintree Cape Tribulation Day Tour includes::
– Daintree River crossing by cable ferry
– Alexandra Lookout, panoramic coastal views.
– Wildlife River Cruise, in the heart of the Daintree on the only boat permitted to operate on the sensitive Cooper Inlet, haunt of the saltwater crocodile.
– Walk in the Rainforest, with our expert guides on easy informative treks beneath the forest canopy, includes Marrdja Boardwalk.
– Cape Tribulation, stroll on the rainforest fringed beach and to the lookout on the Cape for superb views over the Coral Sea.
– Canoe the secluded waters of the Blue Lagoon. See exotic butterflies, turtles and colourful Kingfishers.
– Swim in the crystal waters of a secluded natural rainforest waterhole.
If you don't have the time to make it up to Cape Trib on this visit the Rainforest Station may provide you with a good alternative.
Rainforest, Koala and Aboriginal Experience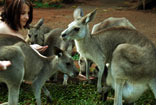 You will be collected from your accommodation by one of our friendly Coach Drivers. Travel to Rainforestation Nature Park by coach via the scenic Kuranda Range.
Arrive to experience the Koala & Wildlife Park. The Pamagirri Aboriginal Dancers performing in the rainforest amphitheatre and a guided Dreamtime Walk. Spear throwing demonstrations, boomerang throwing and didgeridoo playing lessons.
Board an Amphibious Army Duck for your tour of the rainforest for a unique experience on both land and water. Later depart Rainforestation for your transfer into Kuranda Village and wander through the many shops and local markets. Return to Cairns Australia by coach.
No. 3 Horse Riding in Tropical Far North Queensland
Horse riding through tropical Queensland Rainforest
Explore the tropical rainforest on horseback into the changing western landscape of open woodland forests. Cross the Mowbray river and over mountain tops down to the lowlands to discover pristine spring fed waterholes and lagoons.
The tour includes an exotic, tropical lunch and a chance to relax at a private water-lily lagoon. The horses are trained to suit all levels of riders including absolute beginners. You do not need to be an experienced rider. Non-riders can enjoy a 4 wheel drive adventure and join you for lunch at the lagoon.
No. 4 Green Island Tour
Green Island is an idyllic coral cay in paradise. Snorkel off the beach over stunning coral reefs, ablaze with underwater colours and teeming with myriads of coloured exotic reef fish. Explore the island rainforest, walk around this tiny coral cay or simply relax and take it all in.
This Green Island tour includes a courtesy hotel transfer from Cairns Australia or Palm Cove to the Reef Fleet Terminal and board the vessel. You can expect to enjoy over 5 hours on Green Island. Available activities if you want to be active include scuba diving, parasailing, surf skiing and canoeing. Green Island is one of the easiest tours close to Cairns.
No. 5 Ballooning over the Atherton Tablelands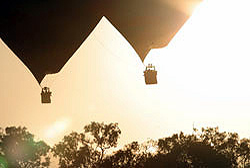 Have you ever wondered what it would be like to fly in a hot air balloon? Then come and enjoy the experience, the wonder, romance and peace of the Australian Bush. Enjoy the sensation of flight as you float over the picturesque Atherton Tablelands landscape at sunrise.
Before lift-off see the spectacle of how a hot air balloon inflates and takes its shape. Then you just hop in and gently take off. You will float over gum trees with the Australian landscape laid out before you.
Get carried away with the fun but don't forget to look out for wildlife and listen out for the sound of nature below. Please follow this link for more information on the tours listed above or follow the links below to continuing searching for more about Cairns Australia and Queensland: