The Best Whitsunday Tour
Top Tours of the Whitsundays in Queensland, Australia
For more information about any Whitsunday Tour please use the link at the end of this page
N.o. 1 The Awegasmic – The best Whitsunday Tour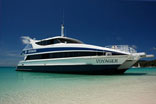 You will need 5 nights and 6 days to enjoy the best Whitsunday Tour. You get coach and vessel transfers, The Great Barrier Reef, Loads of Sailing, Airlie Beach, Long Island and Whitehaven Beach and a bit of Ocean Rafting thrown in (and around probably 🙂
Alive in Paradise
This is a way of letting someone else do the running around and planning. You pretty much just need to show up with swimmers, sunscreen. sunnies, a few clothes, a book might be an idea switch off and relax. Let someone else deal with life's "stuff" for a change. Time for you to just enjoy being alive in paradise.
N.o. 2 Tall Ship Day Sailing & Snorkelling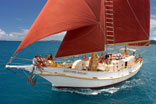 Sailing aboard a Tall Ship is a relaxed, fun way to sail through the Whitsunday islands. You are assured you will enjoy all the key features of the islands at a pace that reflects a bygone era and style of sailing. You can participate in sailing as much or as little as you like, or just focus on snorkelling over coral reefs and swimming in crystal clear water.
Sailing aboard a Tall Ship is a very unique experience and one you are unlikely to forget.
N.o. 3 Full Day Daydream Island & Whitehaven Beach

The Whitehaven Beach is one of the those places where you have to see it to believe. Seven kilometres (five miles) of glistening white silica sand complemented by crystal clear waters. It looks like a perfect picture postcard of a white beach but there is no image enhancement here. This is for real. Whitehaven Beach has National and Marine Park status. It is home various species of turtles, other marine creatures and tropical wildlife.
No. 4 Whitehaven and Whitsunday Islands
Explore the more remote beautiful bays, islands and beaches and see the very best of the Whitsundays National Park on this fully guided half day cruise.
Turtles, Sea Eagles and Dugongs
Cruise via Daydream Island to our first wilderness area, beautiful Cid Harbour – one of the most idyllic areas of the Whitsundays between Cid and Whitsunday Islands with calm waters, beautiful coastline and soaring peaks. It is also home to an amazing array of wildlife – turtles, sea eagles and you may even see the strange elusive dugong.
National Park Islands
Leaving Cid you will cruise past a number of other National Park islands and famous Hamilton Island enroute to the southern end of Whitehaven Beach.
Whitehaven Beach
Whitehaven Beach is a definite "must-see" in the Whitsundays. The crystal clear aqua waters and pristine white silica sand stretch for over seven kilometres along Whitsunday Island, the largest of the 74 islands in the Whitsundays. It is Mother Nature at her best – the most photographed beach in Australia and named "Queensland's Most Beautiful Beach". Wander along the beach to your own secluded stretch, laze on the beach or cool off in the azure waters.
No. 5 Sail and Dive the Whitsundays
Enjoy the best of both worlds.  Explore the Whitsunday Islands by sail and by snorkelling, swimming and bushwalking. You will visit the icons of the Whitsundays such as Whitehaven Beach.
All this as well as a cruising to the outer barrier reef. Diving is a focus and the crew will ensure that even first time divers feel safe. You will enjoy the splendour of these magnificent coral reefs.
N.o. 6 Three Island Discovery Cruise
Stay for a Daydream
The Tour Escort will be with you on Long Island Resort and Daydream Island to assist and show you around. Once on Hamilton you are left to your own exploring to discover this magical place!
N.o. 7 Daydream Island Escape – Full Day (Mermaids Lunch)
What a day for a Whitsunday Daydream
Daydream Island Resort and Spa, one of the premier resorts in the Whitsunday Islands, invites you to come and enjoy the many attractions of this fantastic island.
Daydream Village
Daydream Village at the southern end of the island has been especially developed with day visitors in mind. It has all the facilities of an island resort and then some! Set around the swimming pool is a bakery, water sports& dive shop and souvenir boutique. There are tennis courts, a children's playground and the fantastic 'Living Reef' Coral Lagoon filled with colourful coral and fish life.
Mermaids Restaurant
There's lots of room to laze away the day pool side, on the lawns or adjacent beach. Take a swim, stroll along Sunset Beach or see wallabies and endless bird-life on the rainforest walk. The 'Around Australia' mini-golf course has to be the best in the world – definitely not just for the kids! At lunchtime, wander along to the Resort area and enjoy lunch poolside at Mermaids Restaurant.
N.o. 8 Hayman Island – Blue Pearl Bay
Blue Pearl Bay, Hayman Island
A two-hour sail from the mainland, Blue Pearl Bay on Hayman Island boasts some spectacular fringing reef. Snorkel or Scuba Dive amongst the beautiful coral and colourful tropical fish of the Great Barrier Reef Marine Park.
Blue Pearl Bay Maori Wrasse and Coral Trout
See beautiful fringing reef corals and thousands of tropical fish in waist deep water just metres from the beach. For the more adventurous, a short paddle brings you to spectacular coral bommies and the largest Blue Pearl Bay residents like Maori Wrasse and Coral Trout.
Whitsunday Passage
After lunch, there is usually time for a swim or a bit of sunbathing before the crew set sail again for the return leg via the Whitsunday Passage to Shute Harbour.
N.o. 9 Long Island Escape Full Day Cruise
Long Island is a superb destination for a day visit as you can enjoy the relaxed atmosphere and great facilities of the resort, head off to explore the islands walking tracks or a mix of both. Relax on the beach, claim a hammock or take a dip in the pool. Enjoy a cocktail or cold beer at the poolside bar before a superb buffet lunch.
N.o.10 Full Day Sea Kayaking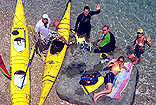 Sea kayaking is a great opportunity to observe nature close up. You will paddle out from Shute Harbour and explore the beaches and waters of the nearby Molle group of islands. The islands are home to giant sea turtles, dolphins, whales and a myriad of other marine life. This trip has it all! Exhilarating kayaking, sailing and lazing on beautiful beaches. Then there's snorkeling over amazing coral reefs and taking in scenic island bush walks.
For more about the above click here or to keep going just go below and click: