Gold Coast Theme Parks
The Gold Coast is many things to many people but one thing is for sure it isn't short of a theme park or two. In fact it has more theme parks per over excited child than anywhere else on the planet :). Get set to 'enjoy' some of the biggest, scariest, stomach turning thrill rides ever devised. Get up close and personal with critters from all over Australia (everyone comes to Gold Coast) and from overseas as well.
Plenty of Choice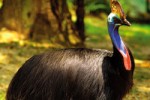 Gold Coast Theme Parks are quite varied in their appeal so if there is not a park for you then you probably just don't like concept. Whether it be death-defying exotic fruit or roller coasting cute furry animals… hang on, I might have got a bit confused 🙂 – anyway you get the idea hopefully – much to choose from. So which ones should you visit? Probably more than one is the answer.
Gold Coast Theme Park Passes
It's hard to go past all the available passes to the myriad of Gold Cost Theme Parks. It is even harder to pick the right one! Still, it's worth taking a bit of time and having a go as they can save you a fortune. You can visit one, two, three or more theme parks. Popular choices include Warner Bros Movie World, Sea World, Wet'n'Wild Water World, Dreamworld and Whitewater World.
Theme Park Tips
If you have small people on holiday watch out! Gold Coast Theme Parks can drain you of cash quicker than you can say 'no – means no!' You'll find some things are reasonably priced and might even enjoy the odd snack but you are at their mercy – once inside you will be dependent on the Park for your very survival 🙂 – unless you take a few precautions.
Bring Provisions
Bring whatever you can with you. Some parks may try to stop you bringing in food but they aren't going to lock you up over a ham sandwich. Just be reasonable and sus out the rules.
Special Deals
There will be specials / deals / combos so check out the options before rabid hunger brings out the inner beasts.
Spending Limits
Limit your off-spring to what they can spend money on and how much up front and stick to it.
Theme Park Extras
Be smart about some of the 'extras' the parks may use to supplement the entrance fee. The reasons these little side shows and attractions exist are primarily to make money. The parks will survive if you steer clear. If you honestly want to indulge that's your call just don't feel you're missing out if you don't.
Where are they? / Transport
Usually you can organise cheap, even free, transport from your accommodation. If you are driving you might need to know where to go. Follow the link at the foot of this page for a map.
Which Park to Visit?
Dreamworld
In Dreamworld if you were able to teleport from attraction to attraction (may be next year) your feet need barely touch the ground as you are thrown, flung, dropped and spun in all manner of ways bar none. The huge selection of rides means pleasure for all from the thrill seeking teenager to the five-year old having a ball. There are also most of Australia's biggest draw-cards including Koalas, Kangaroos and Wiggles 🙂 . This place is a dreamy place for young and old.
White Water World
Next door you'll find wave after wave of wet rides. White Water World is the place to be on a hot day; just remember the sunshine and reapply the sunscreen There is also Wet N Wild which is a similar experience so choose as to your preference and budget.
Movie World
If none of that sounds like you, how about a trip to a world full of movies? Movie World has it all covered with behind the scenes action and rides that take you through the classic scenes, and then there's the stunts that defy belief.
Seaworld
Visit Sea World for amazing marine life exhibitions, rides and shows including the popular Polar Bears in their Arctic summer environment via a state-of-the-art display. Lessor known Gold Coast Theme Parks don't necessarily mean less fun or interest. Consider:
Paradise Country – For Outback Adventure.
Australian Outback Spectacular – For Outback Entertainment.
Currumbin Wildlife Sanctuary – For Wild Entertainment and animals great and cute.
David Fleay Wildlife Park – A more natural and exotic wildlife experience.
Tropical Fruit World – Tropical Fruit World claims to have the largest variety of tropical fruit you'll find anywhere else and it has a few rides to keep you occupied.
Follow the link below for more information about Gold Coast Theme Parks including a map: More info on the Theme Parks