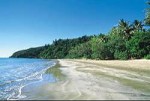 Top 5 Things to in Queensland
Here we go with the start of the Top 100 with the Top 5 in Queensland . We take account of practicalities in ranking the top 100, after all there's not much point in listing Cape York as the top thing to do as it's not the easiest place to get to for most visitors.
At the end of each page there is a link to the next page and the page that precedes it. You can also use the navigation bar at the top of page under Queensland100. The Navigation Bar will take to any section of the top 100. You can also obtain information on the various 'chunks' of this glorious state of Australia as well as investigate a few tour options.
What about all the Crocs, Snakes, Spiders, Sharks, Tornadoes, Tidal Waves, Earth Quakes, Skin Cancer – Queensland must be a death trap!! 🙂
Wow! Well now you mention it! Amazing anyone survives. 🙂 Well actually Crocs are great provided you don't make yourself a meal of it, the red eyes seemingly floating on the water have to be seen, snakes, spiders and sharks you probably won't see, at least not any dangerous ones, unless you go looking for them. Extreme weather is more likely the further north you travel but really it is not a serious concern beyond being surprise about rain during the wet season (do your research) – it's tropical up North you see. That just leaves skin cancer – wear a hat and sun screen and you'll be fine.
The Gold Coast is much more accessible. Yet strangely neither place is ranked in the Top 5. So what is ranked in the Top 5? Just follow this link below and all will be revealed: